Let's fill the horn of plenty to the brim this year as we continue our food collection tradition during our Thanksgiving In-gathering service on Nov. 19!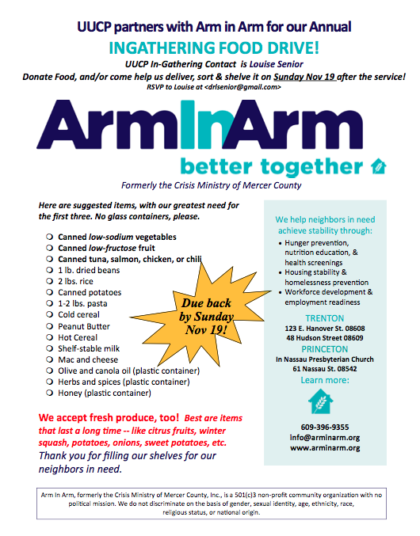 We continue our long standing tradition each November of partnering with ArminArm in Trenton, NJ! Our goal is to stock their food pantry full for this high-need time of year.
How can you help on November 19?
– Donate a few items on this list and bring them UU Princeton.
– Help bag and stock cars for delivery after service.
– Carpool to ArminArm to stock shelves for a fun afternoon!
See the separate blog post about our Turkey Drive for the East Trenton Community Center due by November 12.
Visit the Social Justice table in Robinson lounge after services to learn more or sign up for our many opportunities in November to be involved.