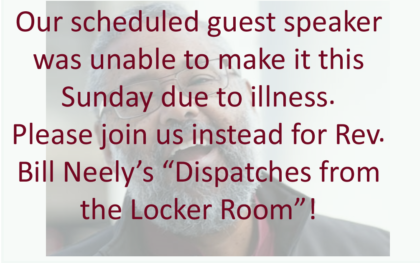 CANCELLED Due to Illness – Rev. Mark Morrison-Reed is an exciting and popular speaker, scholar, and author in our faith whose work centers on race and racism in Unitarian Universalism. A retired minister, he now teaches at Meadville Lombard Theological School in Chicago where he uses scholarship, history, and personal experience to help prepare future leaders to create an anti-racist Unitarian Universalism. Mark is a highly-sought after speaker, workshop leader, and preacher, and we are thrilled to welcome him to UU Princeton to do all three!
Please Mark Your Calendars
CANCELLED DUE TO ILLNESS – Friday, October 28 at 6 p.m., when Mark will offer a book reading and history presentation focusing on his latest book, The Selma Awakening: How the Civil Rights Movement Tested and Changed Unitarian Universalism.This and many others of Mark's books will be available for purchase at the event. (Fahs Theatre)
CANCELLED DUE TO ILLNESS – Saturday, October 29 from 9–11:30 a.m., when Mark will lead a workshop titled, "Eight Keys to Attracting People of Color to UU Congregations" (Fahs Theatre)
CANCELLED DUE TO ILLNESS (Rev. Bill Neely will preach 10/30/16) – Sunday, Oct 30 at 10:30 a.m., when Mark will preach at our Sunday morning worship service.
Unitarian Universalists from other congregations, as well as everyone interested in these topics, are welcome at all of these events. Mark's visit to UU Princeton is a great opportunity to experience one of our faith's most accomplished, passionate, and committed leaders in these areas as he offers us his wisdom and leadership.
Don't miss it! And Check out Rev. Morrison-Reed's facebook