Kids' Chorale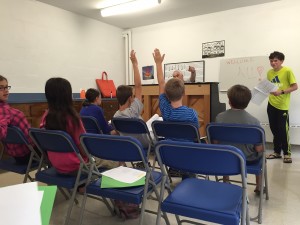 Most Sundays, 9:30 A.M. in Room 2
Have a kid (first through eighth grade) who loves to sing… or might love to? Bring him or her to visit a Kids' Chorale rehearsal any Sunday morning from 9:30-10:15 am in Room 2. No music experience necessary!
Kids love to sing, and here's what some of our singers say about the Kids' Chorale experience!
"Singing together makes me happy!" – Hannah
"I just like to sing!" – Peter
"I like being part of a singing community." – Evan
"I'm excited to learn even more challenging songs!" – Jonny
"My favorite song was when we learned the Beatles 'When I'm Sixty-Four'!" – Jonny
"I look forward to singing all the songs!" – Noah
"Music is fun to learn!"- Hillary
Leading the Kids' Chorale
Evan Corn directs the Kids' Chorale choir. Evan is a graduate of the American Boychoir School and brother of Jillian Corn, our previous long-time Kids' Chorale director. Jillian is now attending Westminster Choir College, but she and classmate Michaela Hillings will be helping out with Kids' Chorale this year as part of their required professional development at Westminster. Jill and Michaela will be observing and helping conduct at different times during the fall semester.