Music Ministry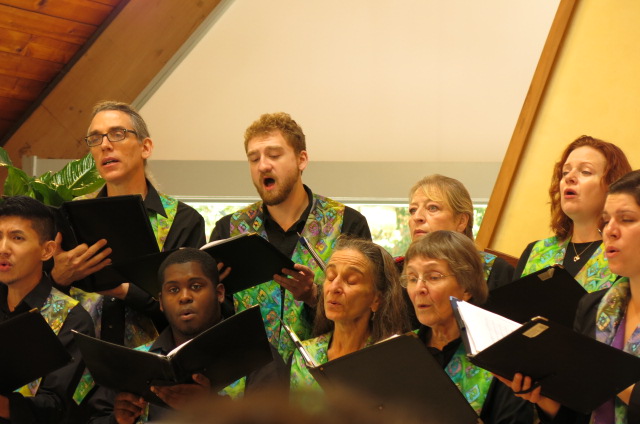 If ministry is considered a call to service, then the Music Ministry elevates this meaning through the powerful medium of music. Coming first through those who participate – in the Adult Choir, Bell Choir, and Kids' Chorale, the Music Ministry spreads inspiration to all who come to services and concerts. An important goal of the Music Ministry is to extend its inspiration as a tool of good will in the wider community.
The Music Ministry  consists of musicians and music lovers who share an understanding of the power of music to heal and transform.
Adult Choir
Let singing with the Adult Choir be something you do for yourself. Come be a part of a new wave of choral participation. With an ear to music that is ever meaningful, ever uplifting, and ever fun, music director Marjorie Herman invites you to join us as we make a joyful noise through the singing of classical pieces of all periods, folk-song arrangements, inspired world music, uplifting spirituals, and lots more.
Bell Choir
Ringing bells is like no other musical experience. Each ringer normally has two bells, i.e. two notes to ring, meaning that he or she must listen in a particular way in order to take part musically in creating a melody. The sound of the bells is both heavenly and penetrating, and ringers feel enlivened by the clarity of the sound. We now have three octaves of bells, 36 bells in all, and 11 ringers, which is a full complement. But we're always looking for new ringers to join us. Led by Joelle Piercy, the ensemble rehearses every week and plays for several services each season.
Kids' Chorale
Kids' Chorale is a children's chorus for ages 8 to 13. The music ranges from folk to chant to classical and everything in between, and children learn the basics of reading music as well. This ensemble has grown in musical sophistication and is singing for more services than ever before. Our previous long-time Kids' Chorale director, Jillian Corn, is now attending Westminster Choir College. She and fellow classmate, Michaela Hillings, both music education majors, will assist the Chorale as part of their professional development. Jill and Michaela will observe and help conduct at different times. We are looking for many more kids to join us! We rehearse weekly on Sunday mornings.
Music Staff
Special Events
We are alive with musical events inside and outside of worship.
All Music Sunday
On one Sunday every year, an All Music Service is mounted by the Music Ministry in which all ensembles participate. Past themes include "The Power of Music," "Growing Towards Our Healing," "The Many Moods of Alleluia". We also hosted the well known song leader Nick Page. This annual service features music from many styles and cultures, and has become an anticipated event on the congregational calendar.
Vespers Services
Several times a year, in tandem with Rev. Bill Neely, the Adult Choir has participated in meditative early evening services. Examples of this type of service are Coping with the December Holidays, and a Good Friday Evening transformational service.
Concerts
We have hosted a number of Classical concerts at the congregation, as well as the acclaimed duo Craig Rubano & Beth Ertz and political satirist Roy Zimmerman. Every other year, the Music Ministry presents its thematically driven Spring Concert. Past themes have included: "Gospel Train – A History of African-American Spirituality" and "Voices of the Feminine".