Garden of Remembrance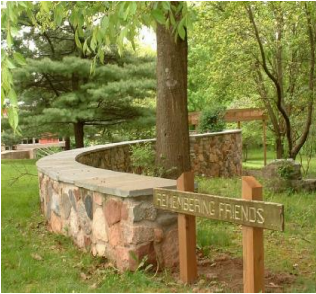 The Garden of Remembrance of the Unitarian Universalist Congregation of Princeton provides a place for the scattering of ashes of members or friends of the congregation. It is also a place for memory and reflection and for conducting services and rites of passage.
Who May Use the Garden?  Members of the congregation and their immediate family are welcome to use the garden, as well as immediate family members.
Acknowledgment. We place bronze plaques on the mounting erected next to the Ken and Jean Wells Wall. Plaques are of uniform size, about seven inches wide and one inch high.
Plantings. The Memorial Garden Committee plans and maintains the garden's plantings.
Fees.  We have a Memorial Garden Fund to defray maintenance costs. Family or friends pay the cost of erecting a plaque. In cases of financial hardship, we can reduce or waive fees.
Advance Arrangements. A member or friend may make advance arrangements by making a contribution.
Ceremonial Use of the Garden. Please schedule with us in advance for any ceremonial events.
Financial Donations. We always appreciate Financial donations to the Garden of Remembrance Fund.
Please take a look at full details about the garden here: