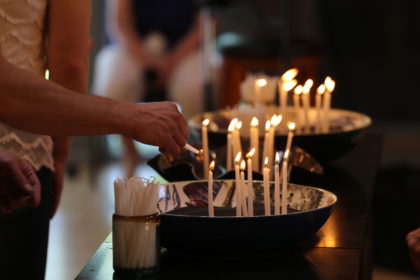 Our Monthly Spiritual Themes guide our Chalice Circles, which are small, intentional groups of members and friends that gather for spiritual enrichment through personal sharing.
For more information on Chalice Circles, please contact our Circle coordinator Linda Benson.
Embodied
Our Chalice Circle thoughts and questions for Embodied are:
"We are bodies, sometimes with dreams and always with desires." – Barbara Kingsolver
How has your body shaped your dreams and desires?
"The Church says: the body is a sin. Science says: the body is a machine. Advertising says: The body is a business. The Body says: I am a fiesta." – Eduardo Galeano
When have you felt that your body was a sin, machine, business, or a fiesta?
"Can I be blamed for wanting a real body, to put my arms around? Without it I too am disembodied. I can listen to my own heartbeat against the bedsprings…but there's something dead about it, something deserted." – Margaret Atwood
When has touch helped you feel more embodied?
"There is nothing revolutionary whatsoever about the control of women's bodies by men. The woman's body is the terrain on which patriarchy is erected." – Adrienne Rich
Have you witnessed oppressions built on another's body?