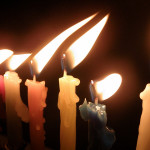 August : The Church
Our Monthly Spiritual Themes guide our Chalice Circles, which are small, intentional groups of
members and friends that gather for spiritual enrichment through personal sharing.
Our Chalice Circle thoughts and questions around the theme of The Church this month are:
"I like the silent church before the service bgins, better than any preaching." ― Ralph Waldo Emerson
"There is no one true church, no one chosen people." ― Terry Tempest Williams
"All too many others have been more cautious than courageous and have remained silent behind the anesthetizing security of stained-glass windows" ― Martin Luther King Jr.
"One came out of the church with a kind of comfortable and satisfied feeling that something had been done that needed to be done, and that was all I knew about it." ― Thomas Merton
Reflections
Have you ever felt like your religious community was the one true religious community? Has that changed? Which part of church speaks to you?
Have you felt "anesthetizing security" in church?
Have you felt, after church, that something had been done? Describe the feeling.
Future Themes
September '16 – Spreading the Word
October '16 – Civility
November '16 – Freedom
December '16 – Repair
January '17 – Creativity
February '17 – The Self
March '17 – Our Dreams
April '17 – Roots
May '17 – The Journey
June '17 –Tomorrow