Stamp Out Despair Project – 2017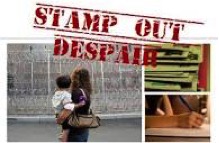 There are over 2,000 immigrants and asylum-seekers being "detained" in our New Jersey county jails – far from family or friends, isolated and confined.
Help us to STAMP OUT their despair!
We are again partnering with First Friends of NJ & NY to provide Holiday Kits.
Needed:
1) CASH DONATIONS: for buying Stamps, Folders, Phone Cards, etc.
2) STAMPS: Forever USA & Forever Global
3) ENVELOPES: #10 Plain, Business-size
4) PAPER: Plain White (8.5″ x 11″)
5: LINED PAPER: Notebook Paper (8.5″ x 11″)
6) Note Cards & Greeting Cards: Plain & Holiday
We are also hand-writing "Dear Friend" notes of encouragement to enclose with the Kits.
Please stop by the Social Justice Table in Robinson Lounge to write notes and drop off your donations. Many thanks.
— Eileen Bird, Clara Haignere, & Amanda Gillum
Coordinators, Stamp Out Despair Project
Donation Deadline : Sunday, November 26, 2017
Help us to STAMP OUT their despair