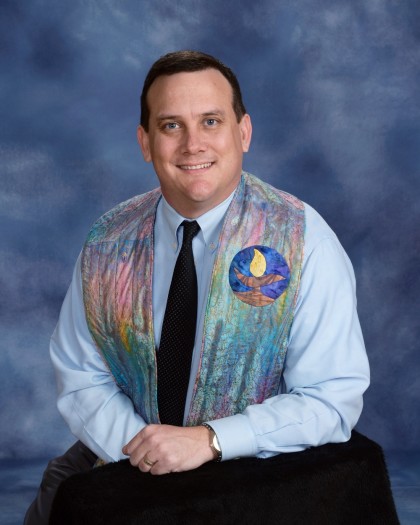 I began serving UU Princeton in July, 2011 and have been in the UU ministry since 2006. My ministry seeks to empower and inspire people to deepen the spirit in their lives, their relationships, and the world. Through engagement with the four pillars of congregational life: worship, service, learning, and fellowship, we develop the wisdom, connections, and resilience to grow with one another and be better, more fulfilled people. I believe that all ministry is, at core, about our relationships, and that relational ministry is best guided by an ethic of love.
I studied for the ministry at Meadville Lombard Theological School in Chicago and did student ministries in Minnesota, Illinois, and Wisconsin. Before serving in Princeton, I served congregations in Tennessee and Michigan. I was ordained as a Unitarian Universalist minister by the Unitarian Church of Norfolk (Va.) in 2006. I am originally from a small town just outside of Pittsburgh, PA, and grew up in Virginia Beach, Virginia. I attended college at Old Dominion University in nearby Norfolk, VA where I majored in Political Science and minored in African American Studies.
My wife, Shannon, and I have three children: Rachel, John, and Sara, and two cats: Magnolia and Della. Shannon is a yoga teacher who introduced me to Unitarian Universalism in the 1990s. In my personal time, I enjoy the Steelers, the Pirates, the Penguins, theatre, reading, and really good pizza.
Meetings With Rev. Bill
I'm happy to meet with you at church, at lunch, over coffee, etc., at a time that works for us both. Please email or call to make an appointment. You're also welcome to drop in during the daytime, but visits, meetings, denominational events, and other occurrences regularly pull me out of the office, sometimes with very little notice. It's always a good idea to call first before dropping by to visit.