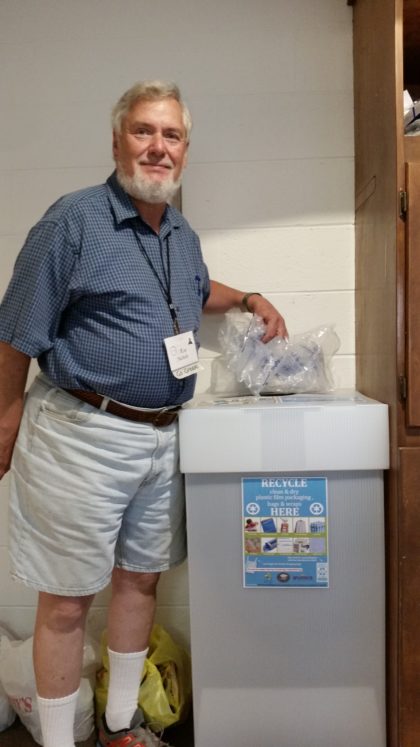 Under the leadership of Ray, we have a new recycle opportunity. Plastic film and wrap!
There is a special container for this material – near the front doors to the main level, where the coat rack used to be before construction.
Here's Ray demonstrating the proper technique to toss that wrap!
Plastic Film Recycling – A Special Container
Plastic film is thin polyethylene plastic used for wraps, packaging or commercial/retail use bags. It's sometimes called stretch film.
Where can I recycle plastic film and bags? We have a special bin (container) for plastic film and bags. DO NOT put anything else in this container – only plastic film and plastic bags.The container is near the front entrance.You can throw in: plastic bags, newspaper sleeves, bread bags, cereal inserts, bubble wrap, dry cleaner bags, case overwrap, food storage bags, napkin,produce bags, the plastic wrap that surround paper towels and bathroom tissue.