Memories from Carl Haag – Finding a Partner Church
It was an ordinary day in 1994 when I walked into the UU Princeton's church office. However, it turned out to be one that had a surprising effect on my life and that of our church. Here is what happened:
Soon after I spoke to the church secretary, Rev. Paul Johnson (then our minister for UU Princeton) came out of his office, greeted me, and said, "Carl, what do you think about a congregational trip to Greece?" I caught my breath and finally said, "That seems like a wonderful idea, Paul." He then said, "Would you organize it?"
That initiated months of meeting by about 20 members who became experts on parts of Greece and led to the creation of our tour of the country. With the help of a travel agent, our Greek Odyssey Tour with 17 members left for a two week trip through Greece. Seven of us went on to Turkey for a week, with 3 men, including Paul, going on to visit the underground city of Cappadocia where 5000 people could live for weeks without the foreign invaders knowing they were there. Our Greek trip was so successful that we had to share its delights with other church members in various ways.
Some years passed and during another visit to our church office, I had a deja vu experience when Paul emerged from his office, greeted me, and said, "Carl, what would you think of a congregational trip to England."  My reply was, "I won't lead it, and it should not be England because our countries have a somewhat common language so folks can get around there on their own. How about an Eastern Europe tour, and we have a member with expertise on leading trips there."
Paul agreed, and so I contacted our expert, who set up a meeting where no one came. That surprised congregant Ethel Mae and me so much, that we tried our hand at organizing it. Again, about 20 people planned the trip for months, and our church's Wanderlust Tour from Prague to Budapest left with 18 people for three weeks in May of 1998.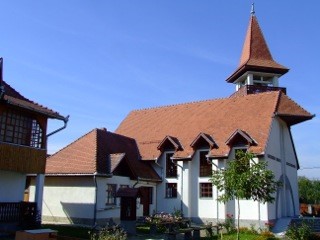 As before, our adventures were many. One brief visit on our five days in Transylvania was to the small town of Feheregyhaza which was looking for a Partner Church relationship. We fell in love with the people and cemented being Sister Churches in a congregational vote, almost 20 years ago. This gave us a lasting, living legacy thanks to Paul Johnson launching our European excursions!