Curriculum (K-8th Grade)
Our Kindergarten through Eighth Grade (K-8) Religious Education curriculum explores our Unitarian Universalist purposes and principles. We believe:
each person is important and should treat others fairly
our congregation is a place where we accept each other, we learn together, and all are free to search for what is true and right in life
each person has a voice in creating a fair, peaceful and free world
we care about the health of our planet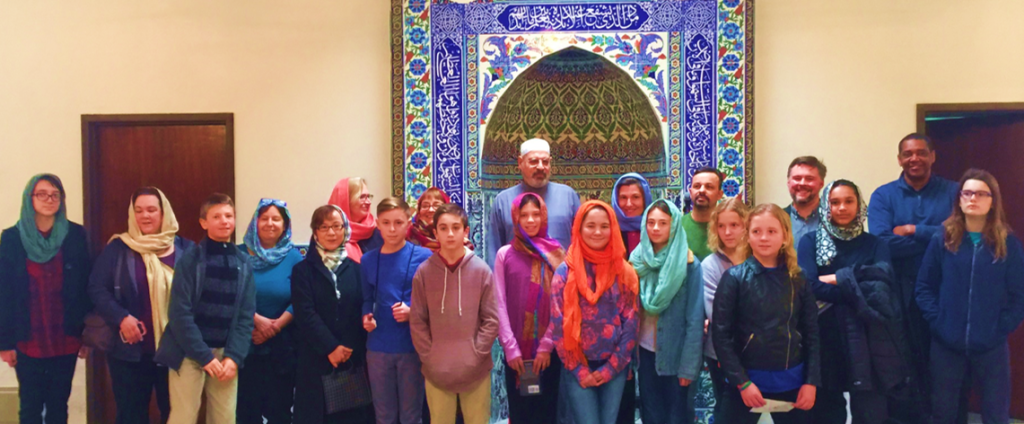 IN 2016, our 6th and 7th grade religious classes visited various neighboring faiths. Here they are at the ISCJ Mosque in Monmouth Junction New Jersey.
We use several curricula designed by religious educators working with our national organization, the Unitarian Universalist Association. Periodically our religious education committee, along with the Director of Lifespan Religious Education, reviews the needs of our children and adopts new curricula as needed.
Our current programs are:
Pre-K: Chalice Children
Pre-kindergarten children enjoy stories and playtime.
1/2/3 Grades: Brilliant Beacons
Theme-based lessons involving discussion, play and art for grades 1 through 3.
4/5 Grades: Wisdom Seekers
Theme-based lessons include discussion, games and activities for grades 4 and 5.
6/7 Grades: Neighboring Faiths
6th and 7th graders explore other faith traditions. Includes trips to a variety of religious organizations.
8th Grade: Coming of Age
8th graders focus on personal spiritual development. Includes trips for social action. Coming of Age is a program for adolescents that explores the Unitarian Universalist faith and spiritual practice. It is a rite of passage to adult faith, similar to a bar mitzvah or confirmation in other faiths.
Our Whole Lives
Periodically we offer Our Whole Lives (OWL), the Unitarian Universalist Association's series of sexuality education curricula for six age groups: grades K-1, grades 4-6, grades 7-9, grades 10-12, young adults (ages 18-35), and adults. The curriculum unfolds in a developmentally appropriate format and our community sees this as one of the most valuable programs for our congregants  – young and not so young.
You can look at the curricula in the Religious Education director's office and at UUA Tapestry of Faith Lifespan Curriculum.