Do you have Yard Sign Envy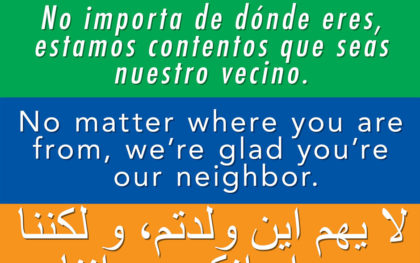 We can fix that! You can pick up your own, double-sided sign (one side each message pictured) after Services this Sunday – March 5 –  for a $10 donation at the Social Justice Table.
Contact Louise Senior:if you can't pick up Sunday.
And what is the story behind the signs! Read about the Our Neighbor side of the sign – it originated in the ministry of the Immanuel Mennonite Church in Harrisonburg, Virginia!
The Hate Has No Home Here side came out of the The Hate Has No Home Here Project that promotes just and inclusive communities by encouraging neighbors to declare their homes, schools, businesses, and places of worship to be safe places where everyone is welcome and valued.