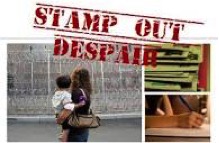 Over 2,000 immigrants and asylum-seekers are languishing in "detention" in our New Jersey county jails – far from family or friends, isolated and confined for unknown periods of time.
Stress and despair grow quickly when they cannot communicate with loved ones.
Providing means to communicate via phone and in writing is invaluable.
Notes of encouragement even from a friendly stranger can also provide comfort.
Through Sunday, November 26th,  UU Princeton is again partnering with "First Friends of NJ / NY" to provide Holiday "Kits".
You can make a difference with the following:
$$$ Donations for phone cards, stamps, folders, etc, which First Friends will purchase
Note & Greeting Cards, writing paper, stamps and #10 envelopes
Hand-written Notes of Encouragement
Please stop by the Social Justice Table in Robinson Lounge to write a "Dear Friend" note and drop off your contributions
Many thanks!
Eileen Bird, Clara Haignere & Amanda Gillum,
Coordinators, Stamp Out Despair Project
First Friends of NJ and NY upholds the inherent dignity and humanity of detained immigrants and asylum seekers. We provide compassion and hope through volunteer visitation, resettlement assistance and advocacy.