Momentary Quartet in Concert
Date/Time
Date(s) - 10/29/2016
7:30 pm - 9:00 pm
Location
Channing (UU Princeton)
Add to Your Calendar
Chamber Music for Brass and Piano — Created in the Moment
Saturday evening, Oct. 29, 7:30pm Channing Hall $15 at the door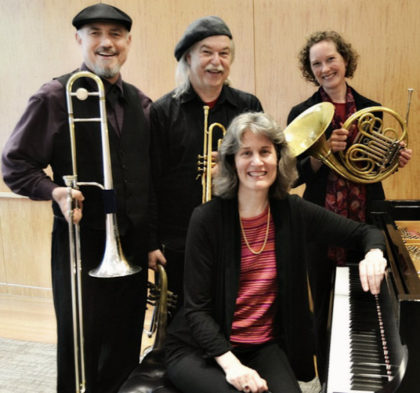 The Momentary Quartet is an ensemble of classically trained musicians who perform freely- improvised music based on the concept of deep listening: each member listening to his or her own inner emotional, spiritual and tonal world, with all members listening to each other in the moment.
The Quartet creates pieces in the best tradition of chamber music, with rhythmic and motivic conversations, silence, and imitation, in styles from contemporary classical to avant-garde to jazz to world music. The quartet enjoys providing opportunities for audience members to explore new directions with us.
Review of its concert at the International Society for Improvised Music in New York City include this comment:
"They were spontaneous, musical, technically superb, and incredibly creative—and they had fun. Michael and I gave at each other looks that said, Can you believe what we are hearing?' I thoroughly enjoyed listening and watching them perform. What a thrill!!" —Don Minasi, The Jazz Inside
In addition to the Saturday evening concert, The MQ will give a workshop on Sunday afternoon, Oct. 30, from 1:00pm until 3:00pm. In a fun, supportive atmosphere, Quartet members facilitate interactive sessions in which participants explore creating music spontaneously. Participants use voices, simple percussion instruments, or their own instruments. Anyone is welcome to participate and no experience with improvisation is necessary.
The players (Jane Buttars, piano; Lin Foulk, horn; Harold McKinney, trombone; Patrick Whitehead, trumpet) originally met at workshops conducted by Music for People, an international organization (founded by Grammy Award-winning cellist David Darling) which trains people in the techniques of improvising music for self-expression
And, Momentary Quartet will give a workshop on  Sunday October 30 from 1:00pm – 3:00pm in UU Princeton's Channing Hall ($10 at the door).
Categories