Ingathering Food Drive – Sunday November 19
Date/Time
Date(s) - 11/19/2017
10:30 am - 1:30 pm
Location
UU Congregation of Princeton
Add to Your Calendar
Ingathering – November 19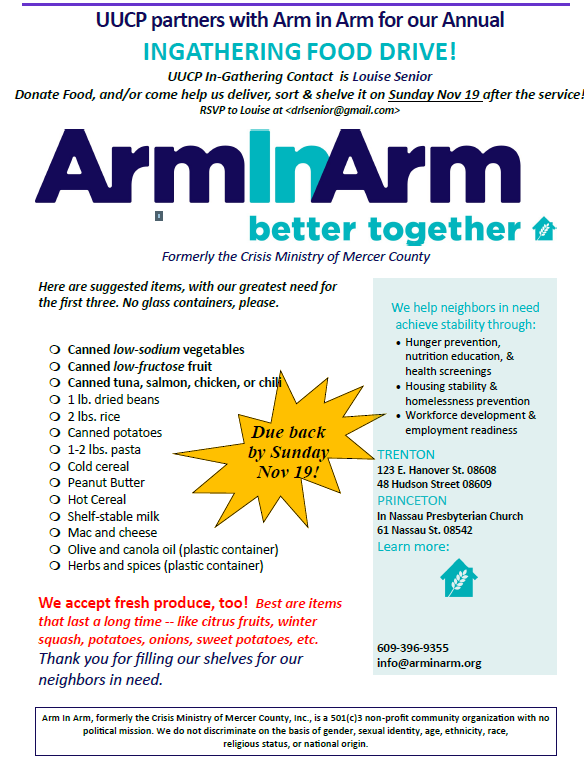 Sunday November 19 is our Ingathering Sunday where we offer thanks and give to others through a food drive.
Our contributions will go to stocking the regular shelves – specific thanksgiving items are not needed as these will have been packed and distributed the week before. Your assistance is also appreciated on November 19!
After the Service we will load the 'goods' into congregant vans and cars, then will drive down to 123 E. Hanover Street Trenton, Arm in Arm's main pantry, where we will unload, then sort and shelve the food for the pantry. This hands-on activity has been well attended, and is family friendly for everyone over about age 6 (it may be dangerous for littler ones who could get hit in the head with canned goods).
Come join in the fun – we'll be finished up by about 1:30 pm. If you'd like to use your helping hands to help deliver and shelve, please contact either Louise Senior
Turkeys – Due by November 19!
We will collect turkeys and hams for members of the East Trenton Community Center, managed by NJ Community Capital.  We're especially happy to accept cash donations and we will do the shopping!
They would appreciate 50 turkeys, of all sizes. Some folks are elderly, and could use smaller turkeys or even turkey breasts – others, of course, are happy to have full-sized birds.
Stop at the Social Justice Table in Robinson Lounge on Sundays  to tell us your plans.
Turkeys, hams or donations are due by Sunday, Nov 19
More questions – Please contact Louise Senior.
Thank you!
Categories