13th From Slave to Criminal with One Amendment
Date/Time
Date(s) - 04/04/2017
6:30 pm - 9:00 pm
Location
Fahs Theater (UU Princeton)
Add to Your Calendar
So Just How Did We Go from Being a Nation of Slaves to Being a Nation of Criminals?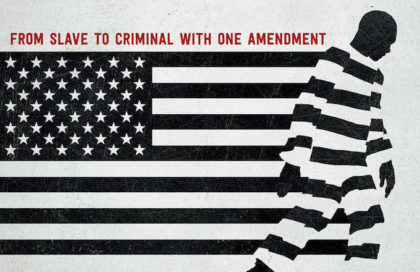 Learn the answer to this question by coming to UU Princeton on April 4 to watch 13TH, a powerful documentary that will challenge your ideas about the intersection of race, justice and mass incarceration in the United States. The film's producer, Ava DuVernay
–best known for "Selma" –has made a movie that is as timely as the latest Black Lives Matter protest and the now – decided presidential election. The movie hinges on the 13th Amendment. Ratified in 1865, the amendment states in full:
 "Neither slavery nor involuntary servitude, except as a punishment for crime whereof the party shall have been duly convicted, shall exist within the United States, or any place subject to their jurisdiction."
As this documentary makes clear, slavery was abolished for everyone except criminals.The film runs just under 100 minutes, and we will have refreshments in Robinson Lounge after it ends so you can stay to share your thoughts with others. Open to everyone, so bring friends and colleagues; very appropriate and important for young people.
Categories