Class Matters – Session 1
Date/Time
Date(s) - 05/16/2017
6:00 pm - 7:15 pm
Location
Founders Room (UU Princeton)
Add to Your Calendar
Class Matters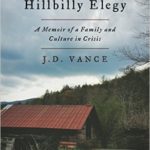 led by Rev. Bill Neely
Several recent works have raised important questions about how class differences impact our political opinions, the expression of values, and the sense of connectedness we feel with others. Let's talk about class and see how it matters today. Advanced reading is not necessary, but we will explore Hillbilly Elegy: A Memoir of a Family and Culture in Crisis, by J. D. Vance (in case you get the chance to read it). We will pass out other articles at the first session.
When: Tuesdays, May 16 and 23 from 6-7:15 p.m. in the Founders Room
Registration required by signing up in Robinson Lounge after worship or by emailing Reverend Bill.
Categories