Letting Our Light Shine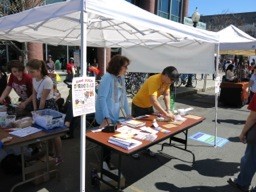 Hats off to the Membership Ministry and ringleader Kevin Yeh, who organized and staffed a UUCP booth at Princeton's annual Communiversity fair.
According to Carl Haag, "It was the first booth people came to on Witherspoon going towards Nassau and was an enticing place that was crowded most of the time! Kids were captivated making buttons and the flickering chalice cards." In addition, parents received postcards with information on our Religious Education program and a link to our website.