Becoming a Member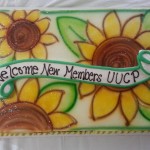 We are pleased to have you with us and want to tell you about the ways you can become a member of our congregation.
The final step in becoming a member is participating in a brief ceremony and signing the membership book.  However, before you reach this destination, you should seek the route that is most comfortable and appropriate for you.
You will probably want to:
Find out more about our congregation and about Unitarian Universalism, especially if you are new to this faith
Become acquainted with members, current congregation leaders, and ministers
Be involved in some congregation activities
Understand the commitment you make in becoming a member
You can do this on your own, of course, especially if you are an experienced Unitarian Universalist.  The congregation also supports you on this path through Newcomer Programs and Events.
Explore Unitarianism and our congregation before you take the step of membership.
Meaning of Membership
What does becoming a member entail?  Many people (especially those who have never belonged to a congregation before) rightly wonder what responsibilities come along with membership. As a member of our congregation, you are responsible in three ways:
To yourself, the pursuit of a personal spiritual journey.
To others, participation as a member of a shared community.
To the institution, a commitment of financial support to the ministry of the congregation in the form of an annual pledge.
A Ceremony of Welcoming
We hold several membership ceremonies during the year for those who have taken the Exploring UU workshop and wish to become members. When you feel ready to join, call or email Reverend Bill Neely to discuss your spiritual journey and commitment ceremony.
Our best wishes and support to you on your spiritual journey!