Green Sanctuary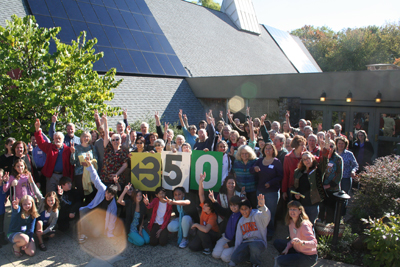 The Unitarian Universalist Association officially recognized our congregation as a green sanctuary in 2011. Currently, there are over 250 such Unitarian congregations. As a Green Sanctuary we live a commitment to the Earth as part of our faith:
The Green Sanctuary program provides a path for congregational study, reflection, and action in response to environmental challenges
Sustainable living means choosing to live in a way that nurtures life, builds relationships, and rejects material consumption as the sole determinant of happiness. The Green Sanctuary Program provides a framework for congregations to proclaim a commitment to the Earth.
Our Green Sanctuary program focuses on Worship, Religious education, Environmental justice, and Sustainable living.
Worship and Celebration – The Seventh Principle
Respect for the interdependent web of all existence of which we are a part. — the Seventh Principle of Unitarian Universalism

The Green Sanctuary states that if we bring environmental awareness to the kitchen, meeting rooms, thermostats, and parking lot, but leave it out of the sanctuary, we will have missed an opportunity to broaden and deepen our spiritual practice.
We often honor the Seventh Principle in our worship services, sermons, and hymns.
Religious Education
Teaching concern for the environment is essential to our survival as well as being one of our core principles and requires intentional inclusion in the religious education curriculum. Learning about energy usage, pollution, waste, climate, water, and conservation is vital to being green.
Environmental Justice
The Green Sanctuary program notes that environmental justice acknowledges that environmental impacts fall first and most severely on those who receive the least of society's benefits and have the least power to effect changes. With the NJ Legislative Ministry, members of the congregation play an important part in efforts to sustain our environment in a just, equitable fashion.
Sustainable Living
The goals of the Green Sanctuary program include changing the way we live at the congregational, in our homes, and in our broader communities. In each area, we  model good behavior by reducing waste, lowering pollution, consuming less energy, and preserving natural resources.
Join with Others
And join our broad and growing movement for climate justice with Commit2Respond. See how the Unitarian movement is working for environmental justice, and work with our own New Jersey Legislative Ministry for environmental legislation unique to our state.