Our Beliefs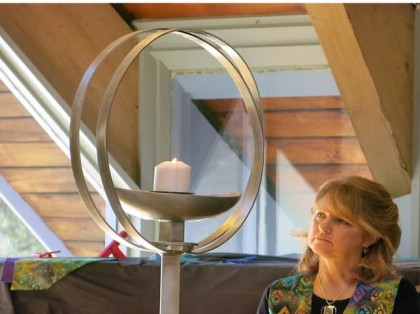 Unitarian Universalism is a liberal religion that values love, justice, and compassion. We believe that each person has a unique understanding of and relationship with the holy, and that we are all called to grow together, bless lives, and change the world. We believe that the Beloved Community is not a place of strict uniformity, but of blessed diversity where the gifts of creation are vibrant, unique, and held as sacred by all. Our spiritual diversity strengthens our common religious impulse to love our neighbors and proclaim our faith.
Denominationally, our beliefs are often summarized using the Principles and Sources described by the Unitarian Universalist Association of Congregations. While each congregation is free to express its beliefs in any way it chooses, there are seven principles which Unitarian Universalist congregations affirm and promote.
Seven Principles
These principles embody how our national association describes our commonly held beliefs:
1st Principle: The inherent worth and dignity of every person;
2nd Principle: Justice, equity and compassion in human relations;
3rd Principle: Acceptance of one another and encouragement to spiritual growth in our congregations;
4th Principle: A free and responsible search for truth and meaning;
5th Principle: The right of conscience and the use of the democratic process within our congregations and in society at large;
6th Principle: The goal of world community with peace, liberty, and justice for all;
7th Principle: Respect for the interdependent web of all existence of which we are a part.
Unitarian Universalism draws from many sources of religious wisdom:
Direct experience of that transcending mystery and wonder, affirmed in all cultures, which moves us to a renewal of the spirit and an openness to the forces which create and uphold life
Words and deeds of prophetic women and men which challenge us to confront powers and structures of evil with justice, compassion, and the transforming power of love
Wisdom from the world's religions which inspires us in our ethical and spiritual life
Jewish and Christian teachings which call us to respond to God's love by loving our neighbors as ourselves
Humanist teachings which counsel us to heed the guidance of reason and the results of science, and warn us against idolatries of the mind and spirit
Spiritual teachings of earth-centered traditions which celebrate the sacred circle of life and instruct us to live in harmony with the rhythms of nature
Our Congregation's Relational Covenant
As an intentionally connected religious community, we have formulated a covenant for our relations. Our covenant affirms a commitment to build loving, healthy, and trusting relationships within our congregation. We make these promises that help us love better, relate more compassionately, and feel the power of our human connections:
We warmly welcome all
We speak with honesty, respect, and compassion
We listen attentively
We express gratitude for the service of others
We honor and support one another in our spiritual journeys and in times of joy, need, and struggle
We embrace our diversity and the opportunity to share our different perspectives
We address our disagreements directly and openly and see conflict through to an authentic resolution
We serve our spiritual community with generosity and joy
We strive to keep these promises, but when we fall short, we forgive ourselves and others and begin again in love
Explore More
Please explore our Beliefs & Principals and the rest of the Unitarian Universalist Association website.