UUFaithActionNJ – Grassroots Social Justice Advocacy
Grassroots Social Justice Advocacy
A Voice for Justice, Equality and Compassion in New Jersey
Follow UUFaithActionNJ on FaceBook

Check out UUFaithActionNJ Website
The Princeton chapter of the UUFaithActionNJ advocates for social and economic legislation that embodies our Unitarian Universalist values. We research issues, formulate positions, and speak with one voice. Through our task forces, we work for economic justice, reproductive justice, environmental protections, just immigration policies, criminal justice reforms and environmental justice.
As part of the UUFaithActionNJ, an affiliation of 21 New Jersey UU congregations, Princeton Unitarians have advocated for clean water, better housing, a higher minimum wage, and immigrant rights.
Latest Actions (February 2018)
1. Former Gov. Christie announced recently that two NJ youth prisons would close and be replaced by two youth rehabilitation centers based on national best practices. UUFaithActinNJ has been active in the push to close these facilities and will remain active in advocating for the best solutions. Stay tuned for more on this issue.
2. UU Princeton congregation signed about 50 postcards asking Governor Murphy to support passage of expanded driver's license legislation for those with limited documentation. We mailed the cards in time for Phil Murphy's inauguration.
3. Please plan to attend the our Regional Issues Conference on Sunday, Feb. 4 from 12:15 to 3 pm right here at UUCP! Discussion will focus on the possibilities and challenges to passing a progressive agenda with a new Governor in office.
4. Save the date for February 18, and plan to attend this important exploration of issues facing women behind bars in NJ at the UU congregation of Monmouth Country in Lincroft, NJ. This is a collaboration between the Criminal Justice Reform and Reproductive Justice task forces of UUFaithActionNJ. The rate of incarceration for women has been increasing nationwide, and the realities of their lives behind bars have serious implications not just for them – in terms of safety and sexual assault– but for their families on the outside. We hope you will join us for this conversation!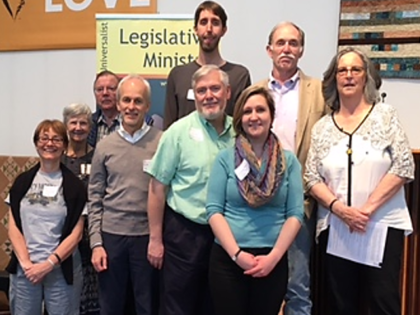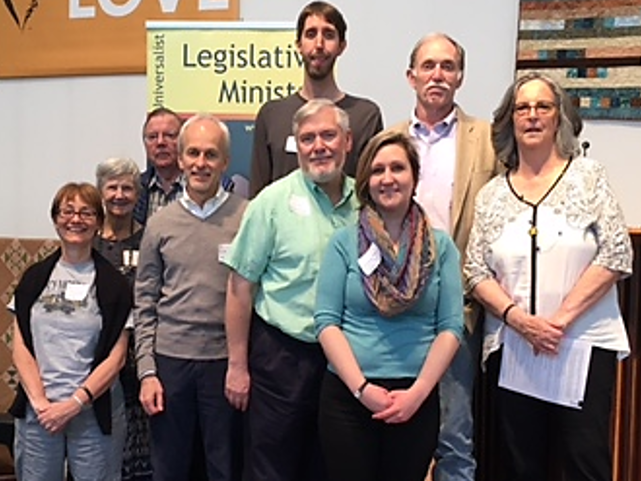 Task Forces and Issues
Our congregants work on task forces and, as you can see in the photo, attend meetings and annual Legislative conferences. Task forces develop policy positions and organize advocacy. A task force usually conducts monthly conference calls. Please join one of the statewide task forces to develop positions on policy issues and organize advocacy activities. Here are the task forces and a small sampling of past and current work:
Criminal Justice Reform/Mass Incarceration
Chairs: Susan MacDonnell
Addressing long standing racial and economic bias in the NJ justice system through bail and parole reform, Special Prosecutors in cases of possible racial bias, radical reduction in use of solitary confinement in NJ prisons, racial bias impact statements.
Immigration Reform
Chair: Ted Fetter
Standing up for undocumented immigrants unfairly targeted for deportation; drivers' licenses for undocumented people; sensible immigration reform.
Economic Justice
Chair:Jerry Fried
Supporting pay equity for women, fair sick leave legislation, and fair housing efforts based on the historic (and unrealized) Mt. Laurel NJ Supreme Court decision.
Environmental Justice
Chair: Bill Potter
Supporting legislation requiring greater use of renewable, earth-friendly energy sources (RETA) and reducing lead in NJ water supplies.
Reproductive Justice/Health Care
Chair: Carol Loscalzo
Leading signature legislation effort around protecting clinic workers; championing intersectionality of reproductive issues with race, class and environmental realities.
Gun Violence Prevention
Chairs: Jeannine Coyne
Resisting the weakening of NJ gun legislation (e.g., the possible expansion of Concealed Carry); supporting "Smart" gun technology, community education efforts.
Upcoming Special Events – Mark Your Calendar
No Events
Join Us – Contact Our Liaisons
At UU Princeton liaisons, Katrina Homel,Gena Whitney, and Eileen Bird, make sure information flows smoothly back and forth between our congregation and the larger UUFaithActionNJ, arrange meetings, organize petition drives, and facilitate workshops at our congregation.

Please contact us about our work & get involved.