Service Projects
Criminal Justice Reform
This work was invigorated by the book The New Jim Crow: Mass Incarceration in the Age of Color Blindness (by author Michelle Alexander) that was introduced here in a Community Conversation and Call to Action presented at on March 9, 2013. We are one of six congregations in Princeton that, in concert with community partners, will engage in actions to end mass incarceration through education and advocacy, and seek changes to the criminal justice system at both state and national levels.
Arm In Arm (Formerly Crisis Ministry of Mercer County)
We are one of the 60 interfaith partners of the Arm in Arm (Formerly Crisis Ministry of Mercer County), which for more than 30 years has partnered with the community to achieve stability for neighbors in need. From its Trenton and Princeton locations, it serves people from more than 1,400 households each month through its hunger and homelessness prevention initiatives. We have a weekly collection of nonperishable food for Arm in Arm.
Loaves and Fishes
Loaves and Fishes is an annual congregation-wide, collaborative social justice project. One weekend per year, volunteers from our congregation and the Unitarian Universalist Church of Washington Crossing gather together and prepare bag lunches on Friday night and on Saturday travel to Trenton to help serve hot meals to the hungry.
Outreach Grants
For more than 30 years, we have supported charitable organizations in the greater Mercer County area through annual outreach grants. These funds are raised at our annual May Spring Sale – a wonderful, community event and inter-generational congregational effort. Join us at the fair and give back to the community.
Trenton Area Soup Kitchen
The Trenton Area Soup Kitchen (TASK) is a private, non-sectarian, charitable organization that depends almost entirely on the help of volunteers and financial support from individuals, churches, local businesses, and community organizations. UU Princeton volunteers assist with the serving of meals once a month. Some of us serve at TASK as tutors.
Other Local Community Activities
Food Pantry Collection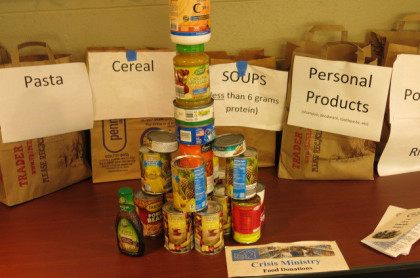 Do You Know? Our church is a year-round collection site for the Crisis Ministry's Client Choice food pantry. Look for the tables to the right as you walk in the front doors. The Crisis Ministry is grateful all year long for your non-perishable donations!
Community Organizations
In addition to these major economic justice ministries, UU Princeton members are active in many causes and local organizations, including the Coalition for Peace Action, Meals-on-Wheels, Not In Our Town, and many others.
The Second Time Around, a consignment and used goods store, is operated by the UU Princeton as a community service.