Outreach Grants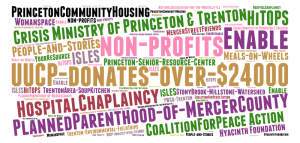 We support charitable organizations serving the needs of people in the greater Mercer County area. Using the funds raised at our annual Spring Sale, we have made grants to area charities for projects and programs for well over 30 years.
For grant applications, we strongly value the advocacy and involvement of our congregants. A member or active friend of UU Princeton serves as the sponsor for a local charity during the grant process.
The Social Justice Outreach Grant Application Forms are available in November and the filing deadline is early January. The Social Outreach Grant Review Committee meets during February and March and awards Social Outreach Grants in the spring.
In recent years we have increased our focus on economic justice and poverty.
Who Receives Grants
In recent years, we have awarded grants to:
Center for Child & Family Achievement
Coalition for Peace Action
Crisis Ministry of Princeton & Trenton
HomeFront
ISLES
Mercer Alliance to End Homelessness
People & Stories
Princeton Community Housing
Enable
Hyacinth Foundation
National Association for the Mentally Ill
Princeton Senior Resource Center
Planned Parenthood of Central and Northern NJ
Latest Grant Report