Outreach Grants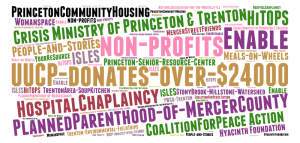 We support charitable organizations serving the needs of people in the greater Mercer County area. Using the funds raised at our annual Spring Sale, we have made grants to area charities for projects and programs for well over 30 years.
For grant applications, we strongly value the advocacy and involvement of our congregants. A member or active friend of UU Princeton serves as the sponsor for a local charity during the grant process.
The Social Justice Outreach Grant Application Forms are available in November and the filing deadline is early January. The Social Outreach Grant Review Committee meets during February and March and awards Social Outreach Grants in the spring.
In recent years we have increased our focus on economic justice and poverty.
Most Recent Grants Awards
The 2017 Social Outreach Committee awarded $25,000 from proceeds raised at the Spring Sale to these charitable agencies. We continued to address the needs of poverty, economic justice and social justice in the greater Trenton area, with 67% of this year's grants being awarded to such programs.
We gave grants to:
Arm In Arm (formerly Crisis Ministry): $2,000 to support "Licensed to Succeed" driver's license restoration program and "Harvesting Hope" workforce development services.
Children's Home Society of NJ: $500 to support peer-led Teen Leaders of Tomorrow monthly meetings in South Ward, Trenton.
Coalition for Peace Action: $2,000 to fund annual Princeton Conference & Interfaith Service for Peace.
HomeFront: $2,000 to provide emergency Homeless Prevention Services for 2 – 4 households.
ISLES: $1,125 to support on-going Trenton Community Agriculture and School Garden Classrooms.
Mercer Alliance to End Homelessness: $1,500 to purchase of Out of State birth certificates for Trenton Individuals with long histories of homelessness.
People & Stories: $1,500 for "Crossing Borders with Literature" books & binders for three 8-session programs at Bo Robinson correctional facility for "Early release" prison populations.
Princeton Community Housing, Inc.: $2,000 for local transportation services for elderly and disabled residents of Elm Court and Bryan House.
Trenton Area Soup Kitchen (TASK): $2,000 to purchase food for needy people in greater Trenton area.
Womanspace: $1,000 for Deaf Advocacy Project for deaf and hearing impaired abuse victims in crisis.
YMCA of Princeton: $500 to a trip to Washington, D.C. for 40 underserved area students, grades 6-12.
Enable: $1,500 to support the "Connect with Enable" program, coordinating over 900 volunteers to help people with mental and physical disabilities and their families.
Hyacinth Foundation: $1,000 for Wellness Community, meeting in Trenton to provide support & education services to people affected by HIV/AIDS and their families.
National Association for the Mentally Ill – Mercer County: $1,000 will facilitate a suite of Wellness and Recovery programs, including In Our Own Voice.
Princeton Senior Resource Center: $1,000 to support the Partners-In-Caring support program.
SPLASH: $1,000 to sponsor educational steamboat trips on the Delaware River for Trenton students.
Stony Brook-Millstone Watershed: $840 for scholarship subsidies for underserved children from Trenton, Hamilton and Ewing areas for Watershed Nature Camp.
LifeTies, Inc.: $500 to help support a celebration to honor our LGBTQI youth and supporters during June (Pride month).
Planned Parenthood of Northern, Central and Southern NJ: $2,035 for purchase of male and female condoms to be distributed through Healthy Lifestyles and PEERS Education Programs in Mercer County.
Latest Grant Report