Stewardship 2017-2018
Our Stewardship Campaign
Making It Happen
We are carrying out Stewardship this year through small group "Stewardship parties," and all will be invited to one.
The meetings will lead to deeper engagement and greater understanding of our needs and our possibilities.
The average pledge is $2,400 per year. Some of our congregants cannot pledge that much, and some can pledge that much and more. We urge you to pledge whatever you can, to be as generous as you can within your means.
Everything we do to expand the reach of our gifts happens because we come together as a community and pledge to make it possible – you and I and every one of us!
Last Year's Pledges – Thank You!

$540,000 total pledged
÷ 225 pledges
= $2,400 average pledge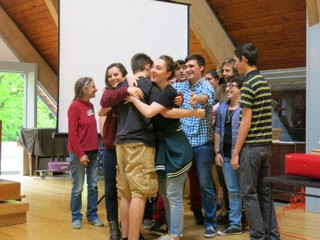 And – Now Is Our Time to be more generous, more loving, within our home and beyond
We hope you will attend a small group Stewardship Party. You may hand in your pledge card there, or give it to a Stewardship Committee member or the office soon afterwards.
Thank you for your generosity!
The Greater Good of the World
Our values and principles call for us to be faithful servants to the Trenton-Princeton area and the wider world. Now more than ever, we face these needs:
Continue support for the UU Legislative Ministry of NJ and larger Association of which we are a part
Grow our social justice funding by fully supporting operations with pledges, so that our weekly offerings can go outside the congregation
We are a generous congregation, and now is our time to increase commitment to many Trenton – Princeton social justice needs
We welcome every stranger, sharing the love we have received from each other
The Common Good of UU Princeton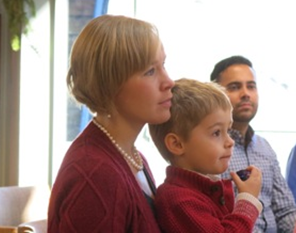 All of us celebrate our shared commitment to a strong faith community
The capital improvements to our congregational home will begin shortly.
Our worship, music, Religious Education, pastoral care, community events, and ongoing maintenance of our spiritual home will always need our full support.
Our financial pledges need to cover 80% of our operating budget.
| | |
| --- | --- |
| Our Budget | $670,000 |
| | |
| Our congregational home | 26% |
| Worship & music | 17% |
| Religious learning | 13% |
| Social justice & the UUA | 15% |
| Fellowship & community | 9% |
| Admin & communications | 20% |
| | 100% |
| | |
| Total Pledges (>80%) | $540,000 |
| Other Income | $130,000 |
| | |
Now Is Our Time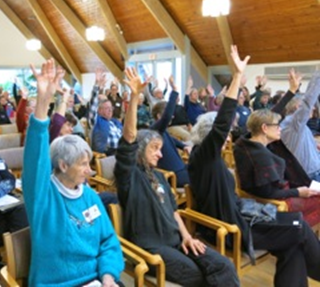 In these divisive and dangerous times, you and I need our congregation more than ever
Severe cuts are threatened in the social safety net.
Civil rights that once seemed assured now could be under attack.
Vulnerable communities could be assailed.
Our sense of common purpose and decency seem weaker as a nation.
Now Is Our Time to come together in voices and action for justice and compassion.
Our Stewardship Brochure
All Photographs by Carl Haag