Our Endowment
Our Endowment is our Future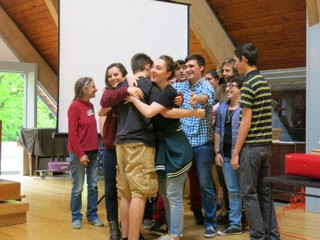 At UU Princeton, we seek to transform individual lives and create beloved community by living our message of hope, love, justice and joy. Your planned gift to build our endowment can continue to support our mission long beyond your lifetime. Our endowment is our future, allowing the congregation in years to come to expand programs, maintain our physical infrastructure, and buffer our budget from sudden shifts in the economy.
What is our Endowment?
Our endowment is a permanent fund, set up decades ago by visionary congregants, that supports UU Princeton for decades to come. Under our Bylaws, our endowment funds programs, projects and capital improvements that would not ordinarily be funded by the annual operating budget. It serves a similar purpose to the kind of saving a family does when establishing a retirement plan or setting up a savings account.  It is how we prudently set money aside to allow future generations to continue and expand upon our mission.
An example of the powerful "pay it forward" effect of endowment giving is that we will disburse $400,000 of endowment funds to launch our much-anticipated renovation in early 2017. This amount represents the income derived from endowment funds donated decades ago, not the principal.
Our endowment is managed and invested in accordance with our Bylaws and Endowment Policy to ensure the long-term legacy of our congregation.
Planned Gifts Build our Endowment
Your gift to the UU Princeton endowment will be added to gifts from those who have already given generously through the years.
We are excited to announce our participation in the Unitarian Universalist Association's "Legacy Challenge." Thanks to a generous gift from the UU Congregation at Shelter Rock, UU Princeton could receive matching funds of up to $10,000 per donor for certain planned gift pledges made through December 31, 2018. This includes existing gifts about which UU Princeton has not been previously notified. (You can read more about Shelter Rock in UU World)

Gifts such as a bequest in your will, naming UU Princeton as a beneficiary of your retirement plan or insurance policy, charitable trusts and annuities will all qualify for matching – some dollar for dollar up to $10,000. Even gifts of undisclosed value may qualify for a flat $1000 match.
We invite you to consider this opportunity to potentially double the impact of your gift by including UU Princeton as part of your will or estate planning.
To qualify your existing or new gift for this challenge, simply fill out our new Legacy Intention Form.
There are many ways to create an endowment gift. Outright gifts of cash and appreciated securities, for example, provide an immediate boost to our endowment and are gratefully received. One of the best ways to make a meaningful endowment gift (and reap some personal benefits as well) is to make a "planned gift".
Planned gifts include gifts created through your will, living trust, retirement plan or life insurance policy. Also included are giving tools that "pay you back" such as charitable trusts and gift annuities that provide you with an income stream for life.
Some planned gifts provide you with an immediate income tax deduction; others provide flexibility during your lifetime and can provide benefits to your estate and your heirs. All planned gifts allow you to create a more meaningful philanthropic legacy.
For more information on opportunities to support our endowment, read about Planned Giving.
Thank you for your interest and support of UU Princeton. The gifts you plan today will enable our UU Princeton community to continue to live our message of hope, love, justice and joy tomorrow and far into the future.