Chalice Lighters' Circle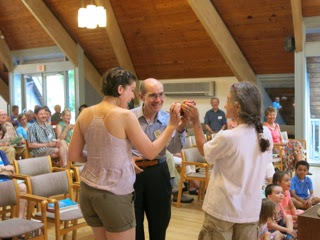 When you make UU Princeton the beneficiary of a planned gift and inform us, we will, with your permission, add you to our Chalice Lighters' Circle. Membership in the Chalice Lighters' Circle may be displayed as part of the 2017 renovation. This is a select group of individuals who have made a commitment to leaving a legacy to UU Princeton and want to inspire others to do so as well. Planned gifts may also be made anonymously.
We are excited to announce our participation in the Unitarian Universalist Association's "Legacy Challenge". Thanks to a generous gift from the UU Congregation at Shelter Rock, UU Princeton could receive matching funds of up to $10,000 per donor for certain planned gift pledges made through December 31, 2018 (see UU World article). This includes existing gifts about which UU Princeton has not been previously notified.
Gifts such as a bequest in your will, naming UU Princeton as a beneficiary of your retirement plan or insurance policy, charitable trusts and annuities will all qualify for matching – some dollar for dollar up to $10,000. Even gifts of undisclosed value may qualify for a flat $1000 match.
We invite you to consider this opportunity to potentially double the impact of your gift by including UU Princeton as part of your will or estate planning.
To qualify your existing or new gift for this challenge, simply fill out our new Legacy Intention Form.